Dropwise condensation occurs when a vapor condenses on a surface, forming distinctive droplets that can be efficiently removed from the surface. According to MIT researcher Nenad Miljkovic, "The faster we can get the droplets to grow, the more heat they can carry away, and the more efficient the process becomes."
In a paper published in this month's ACS Nano journal, Miljkovic and his fellow researchers describe their investigation of droplet growth dynamics on a nanostructured condensing surface designed with an array of 6ì tall silicon nanopillars spaced 2μ apart. The pillars are chemically coated to increase hydrophobicity, allowing the growing droplets to merge and more easily 'jump' from the surface.
Miljkovic told WDR, "Typically, droplets gradually grow larger while adhering to the material through surface tension. We have shown that droplets forming between the pillars are balloon-shaped, with a neck at the bottom, and grow four to six times faster than the round droplets growing on the tops of the pillars. The energy efficiency resulting from the faster growth is important for industrial applications like seawater desalination."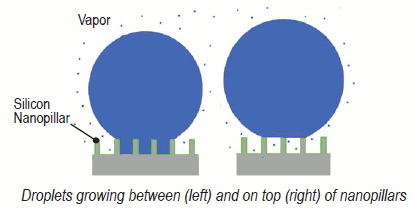 The next step in the research is to find even more efficient nano-patterned configurations, and ways of manufacturing the surfaces on an industrial scale on copper, titanium and other heat transfer surface materials.